There's No Tradition Like a New Tradition
As per my new holiday tradition, I've foregone giving and receiving gifts. The money I saved has gone to Habitat for Humanity and the American Cancer Society. I'll be spending Christmas day in blissful solitude. I'll spend the evening in the kitchen preparing a special holiday meal. Since I cook turkey for Thanksgiving, I'm usually in a mood for non-poultry on Christmas. This year, I'm thinking about cooking myself a "pot luck" dinner of sorts.
Shrimp Cocktail
Doesn't this look fun? As an appetizer, I often have a few shrimp with cocktail sauce, but this kind of cocktail looks much more festive. I'll just combine shelled shrimp, tomato salsa, cocktail sauce, Tabasco sauce, and use lime wedges as garnish. It'll be kind of a cross between gazpacho and shrimp cocktail. I need to buy a couple of parfait glasses.
Salmon Croquettes
I'm not totally committed to
Salmon Croquettes
, but I'm leaning in this direction. The alternative I'm considering is
Tuna Casserole
. A casserole would be more in keeping with the "pot luck" theme, I suppose. The croquettes are similar to the salmon burgers I frequently make, but they're smaller, meatier, and crunchier. I would normally top them with a Bearnaise Sauce (from a packet!), but my proposed side dishes are so saucy I might skip it.
Scalloped Potatoes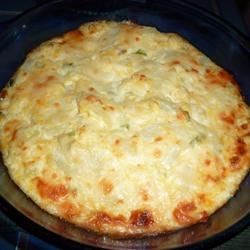 Scalloped Potatoes
are my idea of comfort food! The inclusion of sour cream would make the dish extra yummy. Yes, the recipe calls for Velveeta cheese rather than shredded Cheddar, but Cheddar can separate into oil and solids when baked, whereas Velveeta retains a smooth texture.
Creamed Onions
This will be a new dish for me. My grocery store has sweet onions all year long now, and
Creamed Onions
should be a great way to show off their mild taste.
Green Bean Casserole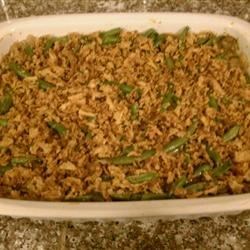 No pot luck dinner would be worthy of its name unless there was a
Green Bean Casserole
. I avoid recipes that call for canned condensed soup and this one contains no such ingredient. I like the fact that it calls for prepared stuffing--I've never tried it in a vegetable casserole, but it sounds good.
Ready For The Holidays!
So, now that I've made myself thoroughly hungry, I'm ready for my end-of-year vacation week!
I'm sure you noticed that my menu doesn't include a dessert. That's because I don't have much of a sweet tooth. The closest I'm likely to get to dessert might be chocolate and brandy. I don't indulge in chocolate often, but if I'm not too stuffed, I may have a few pieces on Christmas.